Celtic Links
Links to Other Celtic Sites
The Blakey School is based in Saskatoon and has been on the Regina scene for a few few years, and the school teaches competitive Irish dancing.
---
Saskatchewan's Champion Pipe Band since 1992, the host and organizer of the MWCF, and the band that played with Sir Paul McCartney.
---
Saskatchewan champions in Grade 4 2003, '04 , '05, '07', 08, 2010, 2011, 2014, 2016 and 2018. Offering excellent instruction in piping and drumming for Regina and area youth, and Saskatchewan's only piping program that offers "Piping & Drumming Qualifications Board" certification. The Conservatory also teaches adult beginners! We currently have about 25 adult pipers in various stages of learning. Call 585-5748 to register!
---
The Conservatory of Performing Arts offers ongoing lessons for adults who would like to start learning the bagpipes, or who would like to enhance their knowledge, skills and enjoyment of playing the bagpipes!
---
The Irish Club has a variety of events through the year, and runs dance and music classes.
---
As a dance company, Living Skies creates unique performances which celebrate the history and culture of Ireland and Irish dance.
---
Highly qualified, and certified teachers focus on developing strong technique and precision in all movements, building the foundations for a long and successful dance journey.
---
A site for buying Highland bagpipes and accessories, as well as Fred Morrison Reelpipes, Scottish Smallpipes in A/D, Uilleann pipes, and much more!
---
The association organizes dancing competitions and performances in Regina.
---
The Regina Police Service Pipes and Drums provide the ceremonial pipeband for the Regina Police Service and the City of Regina. The band competes at the Grade 4 level and was 2015 & 2017 Grade 4 Saskatchewan Champion.
---
The Regina RCMP Pipe Band perform throughout Saskatchewan, proudly representing the best traditions of the Royal Canadian Mounted Police. We wear the RCMP tartan, and members of the band have performed across North America with combined RCMP pipe bands.
The RMO was officially organized in 1988 with 10 members and one mandolin student. It emerged as a unique performing ensemble that is today one of the largest folk orchestras in Canada.
---
Featuring Scottish Country dance groups in Regina, Saskatoon and Yorkton.
---
Held annually on the Sunday of the May long weekend.
---
Including links to most Saskatchewan pipe bands, an interesting online archive, and information about the annual summer school "Sound Advice."
---
The SHSR has been part of tghe Regina scene since 1896, originally as The Sons of Scotland. The first Burns Dinner in Regina was likely 1896. The SHSR runs an annual Burns Dinner each January.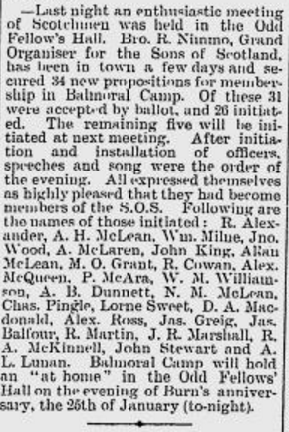 ---
The Summerfield School of Highland Dance offers a complete program for your dancer, focused on discipline, dedication, competitiveness, performance and sportsmanship.